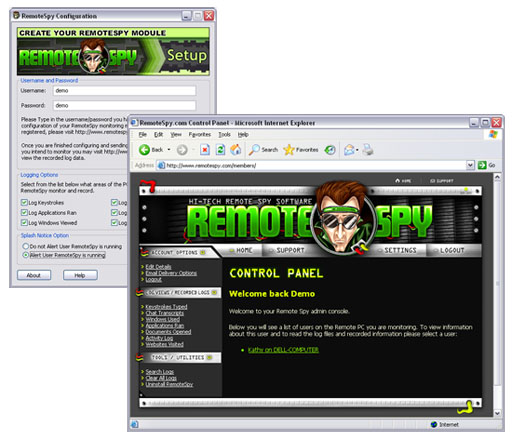 Remote Spy is rated #1 in Remote Spy Software!

RemoteSpy is the leader in remotely installable computer monitoring solutions. With ground breaking technology, Remote Spy can record all keystrokes typed, websites visited, documents accessed, applications ran, passwords used, screenshots and so much more, all in total stealth mode! Especially perfect for those who want to monitor their employees or children, while away from home or work!

RemoteSpy will:

Record all Internet Conversations
Record all Keystrokes Pressed
Record all Websites Visited
Record Desktop Screen-shots
Record in Total Stealth Mode

Record all Documents Opened
Record all Applications Ran
Record all Composed E-Mails
Record all Passwords Used
Remotely Deployable!
Notice: Installing computer monitoring tools on computers you do not own or do not have permission to monitor may violate local, state or federal law.